SERVE THE SAMOSET ELEMENTARY SCHOOL COMMUNITY
The people of Harvest, now in collaboration with the people of Rogers Community United Methodist Church, serve the children and teachers of the Samoset community in lots of ways.
School Supplies for Samoset Students
Every year some students go back to school without basic supplies. In past years, teachers have provided supplies for students to share. As a safety measure that will not be allowed to this year. Let's help under-resourced students at Samoset Elementary start the school year with the tools they will need.
Please consider making a difference with a financial donation. Each $20 contribution will provide school supplies including a water bottle for one student. CLICK HERE to give online or write a check to Harvest noting Samoset School Supplies.
Pack-A-Sack

Pack-A-Sack provides more than 135 food-insecure Samoset Elementary School children with sacks of food weekly to be consumed over the weekend. Please donate small individual containers that are easy to open and multi packed for easier handling.
Pack-A-Sack provides individual servings of nutritious foods with pop-tops or other packaging that could easily be opened by a small child. The program is supported through the generosity of the congregation, including donations of food items or financial contributions.
On the third Sunday of every month, we collect the food donations in the Harvest lobby. You can be certain your generosity is greatly appreciated by our Manatee County neighbors who face constant food insecurity.

Team Leader is Brian Harrison. Questions? Contact Diane McCoy.
Suggested Food Items:
pasta or mac & cheese (7-1/2 oz cans)
applesauce or fruit cups (no sugar added)
pudding cups
crackers (filled with cheese or peanut butter)
cereals (boxed, individual, no oatmeal)
breakfast bars (or granola bars)
fruit juice (no sugar added, boxes, no Capsun)
Your donations are making a big difference!
Drop your donations at the containers outside the main entry.
---
Pack a Pantry
Pack-A-Pantry volunteers gather food donated at Harvest each week. Then on either Monday or Tuesday, they deliver the food to Samoset Elementary School and make it ready for families to pick up via drive by at the school.
Samoset Elementary maintains a food
Pantry for parents.
Suggested items:

Rice - preferably white
Pasta - preferably not whole wheat
Pasta Sauce
Breakfast Cereal - Family sized boxes
Corn - canned
Beans - canned and dried
Green beans - canned
Fruit - canned
Chicken and Tuna - canned
Pancake mix and syrup
Team Leader is Brian Harrison. Questions? Contact Diane McCoy.
BECOME A READING PAL at SAMOSET ELEMENTARY
Stay tuned for future opportunities to engage as a Reading Pal at Samoset.
Send questions and RSVP to Jessica Maxon-Berrier.
Click here to learn more about Reading Pals
Serve the Children of Samoset by Volunteering in the Classroom
The people of Harvest serve the children and teachers of the school by reading to the children and helping with math, art, writing and science. You can also be a mentor to a child and meet with them during their lunchtime. Teachers also need help with special projects. There are many opportunities to work directly with the children. Team Leader is Sarah Kasten. For more info email Diane McCoy.
Annual Book Fair at Samoset

As part of its partnership with Samoset, Harvest funds the school's annual Scholastic book fair and provides volunteers to serve the kids while they "shop" at the fair. The fair is usually held in the spring. Stay tuned for info about this year's book fair.
In the words of one of our Samoset ministry volunteer leaders: "Thank you again for your willingness to help with this very important project that gets books into the hands and homes of our Samoset community children. Their faces tell the story of their joy when they get to choose an age-appropriate book of their very own! Priceless!!"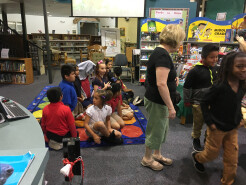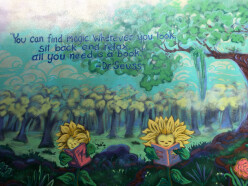 Florida Conference of the United Methodist Church SAMOSET REPORT
---
SERVE AT McNEAL ELEMENTARY SCHOOL
Read with a McNeal Elementary School Child
Most children whose families live at Falkner Farm go to McNeal Elementary School on Lorraine Road in Lakewood Ranch. Some of those students need your help in becoming better readers and achieving their full potential. In the new year, will you commit to read with one of them for an hour a week at McNeal? If so, contact Harvest member and McNeal 4th grade teacher Mindy Swartling via email.
While you're serving at McNeal, you'll see in action a donation that Harvest recently made to the school. Harvest donated 100 Amazon Fire 7 kids' tablets that the McNeal staff will use with Falkner students to help them become better readers. The donation's goal is to enhance the education of Falkner children by providing access to technology that will help ensure they have opportunities for success alongside their peers.