Opportunity to Serve – Samoset's Open House
Samoset Elementary School's Open House will welcome students and families back to school on Thursday, August 9, 2018 at 5:30 p.m. You can help pre-school and kindergarten teachers set up their rooms anytime you want during the day. The school also invites volunteers to help school staff during the evening Open House. To sign up to serve on Aug. 9, contact Sara Kasten at .
Pack a Pantry
Pack-A-Pantry volunteers will gather food donated at Harvest's food drive every third Sunday of each month. Then on either Monday or Tuesday, they deliver the food to Samoset Elementary school and put it on the shelves in the pantry. In addition, you will also have to occasionally go to The Food Bank of Manatee to get additional food. You will need to be able to do some lifting of the boxes of food.
Contact Caryn Patterson via email to ask questions and/or express interest.
---
Annual Book Fair at Samoset

As part of its partnership with Samoset, Harvest funds the school's annual Scholastic book fair and provides volunteers to serve the kids while they "shop" at the fair. This year's fair was March 14-23, 2018.
In the words of one of our Samoset ministry volunteer leaders: "Thank you again for your willingness to help with this very important project that gets books into the hands and homes of our Samoset community children. Their faces tell the story of their joy when they get to choose an age-appropriate book of their very own! Priceless!!"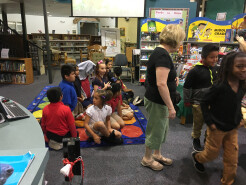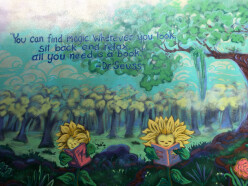 Serve the Children of Samoset Elementary School
The people of Harvest serve the children and teachers of the school in various ways. View 2017-18 school year service opportunities by clicking the link below:
Contact Caryn Patterson via email to learn more and sign up to serve.
---
---
Pack-A-Sack
Pack-A-Sack currently provides 128 chronically-hungry Samoset children with bags (or "sacks") of food each Friday during the school year to be eaten over the weekend. Research demonstrates that hunger inhibits a child's ability to concentrate on schoolwork. By providing nutritional food over the weekend, Harvest hopes to both alleviate hunger and help these children excel in school.

The Harvest Pack-A-Sack ministry packs and delivers individual servings of nutritious foods with pop-tops or other packaging that could easily be opened by a small child. The program is supported through the generosity of the congregation, including donations of food items or tax-deductible financial contributions.
Contact Pack-A-Sack leader Brian Harrison at to learn more and participate.
The following items are the Pack-a-Sack "master menu":
*Pasta or Mac & Cheese tubs (easy open)
*Applesauce or Fruit cups (no sugar added)
*Pudding cups
*Cheese Crackers (filled w/cheese or PB)
*Cereals (boxed, individual)
*Breakfast bars (or granola bars)
*Fruit Juice (no sugar added, boxes)