Mission 2022 - Building Resilient Families
This year at Harvest Kids our ministry focus is "Building Resilient Families." Each month, we will intentionally remind kids who they are in Christ, that God loves them, and the world needs their unique presence.
In addition, parents will receive cues to help have meaningful conversations with their children. Our goal for 2022 is to partner with families. We want to see families become solid and resilient so that any storm can be weathered.
During the year, there will be several events designed to build stronger families, facilitate meaningful conversations, and ultimately help families grow in Christ together.
Parent Resources
Watch this short video to see what Kindergarten & Under Kids are learning in January.

During January, 1st through 5th graders are learning about self-control and how to make wise choices. You can check it out here.
Parent Cues - Help identify the clues of what kids may be thinking.
Learning to Use My Bible
Learning to Use My Bible is one great way to start building resilient kids and families! Beginning January 30, Harvest Kids will launch its' annual 5-week study of Learning to Use My Bible for second graders. Kids will learn how to navigate and use the Bible. On the last Sunday of March, each participant will be presented with their very own, age-appropriate Bible! Children older than second grade who have not previously participated are welcome to join.
Register Here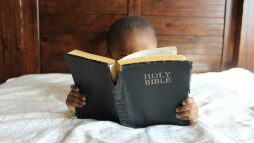 Looking to volunteer? We would love your help. Please email with questions or if you want to help.
Harvest Kids meet Sunday mornings in person!

Harvest Kids offers several different ways to get faith-forming resources to your family, including:
In-Person Experience
HARVEST KIDS in-person programming is available during the 9 AM and 10:30 AM worship gatherings.
Click here to watch Miss Steph talk through some of the details and COVID-19 protocols.
Here are the Harvest Kids COVID-19 protocols for in-person programming:
During Harvest Kids programming, all staff, volunteers, and children (age 2+) will wear face masks (even when vaccinated). Disposable surgical masks will be available for one-time use.
Accepted face coverings: Disposable masks, cloth masks that fit snuggly on the face and cover both the nose and mouth. If a face shield is worn, it must be worn in conjunction with a mask All participants will stay physically distant from persons not in our household (for children 0-2 years old and childcare workers in the nursery, physical distancing will not always be possible).
All staff, volunteers, and children's temperatures will be checked and recorded, using a church-approved touch-less thermometer, upon arrival. If a person presents with a temperature above 99.8 they will not be allowed to participate in Harvest Kids programming that day.
No greetings that require touching (Handshakes, hugs, fist bumps, etc.) will be used during in-person programming.
Anyone exhibiting symptoms of infectious illness, before returning to Harvest Kids in-person programming, must stay home for at least 10 days after symptom onset + symptoms have improved + 24 hours without fever and no use of fever-reducing medicine.
All participants must have a Safety Protocol Form signed by a parent/guardian and on file with Harvest Kids Ministries. The form may be found here.
Harvest staff commits to sanitize indoor spaces between usage with an electrostatic disinfecting system that sprays hospital-grade disinfectant and deodorizing cleaner that meets all EPA requirements for Toxicity Category IV (no harmful dermal, ocular, inhalation, or ingestion effects) Harvest staff/leadership commit to notifying persons if/when there is potential exposure to covid-19. Our registration/check-in system allows us to register your attendance and contact information.
Optional Experiences
Monthly Mailer filled with faith-forming resources and mailed to your family each month.
Online Resources - coming soon!
Harvest Families Mission
We want our younger members to know that God is using them right now, as they are, to help and serve others. No matter how big or small or rich or poor, God uses us to do the work of the church.

Ministry Contact: Steph Serfass
Our Sunday morning children's program is designed to be safe, fun, and to form faith in children. First-time guests and weekly students are welcomed and introduced to God's word through scripture readings, storytime, song, and interactive play. Our goal is to partner with your family as you raise your children or grandchildren to be people who love God and love others.
Preschool (infants - VPK): The Nursery/Preschool environment is a safe & special place filled with love, laughter, and learning. We believe that children are a gift from God and can experience and learn about God's love right from the start.
In our preschool program, we want our students to learn these three truths:
- God made me.
- God loves me.
- Jesus wants to be my friend, forever.

Elementary (K-Grade 5): We meet in small groups, and end in large groups. Small groups are led by consistent leaders who have been background screened and trained. In the small groups for the younger kids, we play, create, and learn together about a new Big Idea each month. For our 4th and 5th graders, we discuss faith-forming topics and spend some time hanging out in small groups!

Big Idea: Every month we focus on a new characteristic of God; what God is doing inside of us to change the world around us. All month long we learn skills to take home and share our new skills with others.
When our Elementary students leave our program, we want them to know these three truths:
- I can trust God no matter what.
- I need to make a wise choice.
- I should treat others the way I want to be treated.