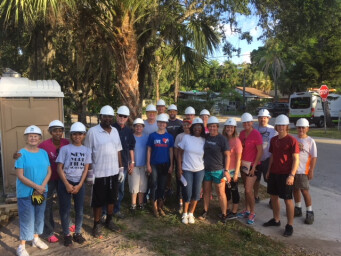 Photo: A 20-person Harvest team served at the Manatee County Habitat for Humanity Interfaith Build site on June 23. The team (pictured) put up the roof trusses, prepared the porch to be roofed, and added a shed wall in the back of the house.
LET'S BUILD!
Harvest and other faith communities have partnered with Manatee County Habitat for Humanity for its 2018 Interfaith Build.
Join us for Harvest workdays - and bring a friend! - at the homesite: 604 11th Avenue East, Bradenton, FL 34208.
REGISTER FOR UPCOMING HARVEST DAYS HERE:
Harvest and Habitat for Humanity have not yet scheduled the next Harvest day at this home site. Stay tuned for updates!
Harvest contributed $10,000 towards the site prep and construction costs of this home.
Visit Manatee Habitat's website to learn more, including the story of the family who will live in this home.
Questions? E-mail Kathy Shjarback.
What can minors do? It is the policy of Habitat that children under the age of 14 are not allowed at a Habitat work site while there is construction in progress. Federal regulations prohibit minors between the ages of 14 and 15 from working in general construction. They may, however, engage in limited activities such as cleaning lots, landscaping, or painting. Minors between the ages of 16 and 17 may perform general construction work, but may not engage in certain activities that are considered ultra hazardous. These activities include the use of ladders, power tools & motor vehicles, demolition, roofing and excavation operations.